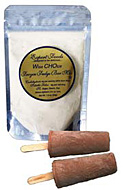 Only 1.3g carbs after subtracting fiber!

No chemicals

Choose your sweetener
and flavor

No sugars or sugar alcohols

18-bar (9-serving) size

Kosher certified
Expert Foods Wise CHOise
Frozen Fudge Bar Mix
Wise Choice Frozen Fudge Bar Mix makes delicious low carb, sugar-free fudge bars with all the rich creamy coolness of the real thing. Makes 3 recipes of 6 2-fl. oz. bars (60ml)—18 total!
You can make the bars with the sweeteners and flavors of your choice! You don't even have to stick to chocolate by replacing all or part of the water with coffee, fruit juice or flavored extracts!
WISE CHOISE FUDGE BAR NUTRITION FACTS:
Amt per serving

As Packaged

As Prepared

Serving Size: 2 bars, 6g dry
Servings per container:
9, 18 Bars
Calories

22

95

Calories from fat

0

70

Net Carbs: 1.3g
Total Fat: 0g

Saturated Fat: 0g
Cholesterol: 0mg
Sodium: 42mg
Total Carbohydrate: 4g
Dietary Fiber: 4g
Protein: 2g
WISE CHOISE FUDGE BAR INGREDIENTS:
Vegetable gum blend (acacia, guar, carob, xanthan), pastuerized egg whites.