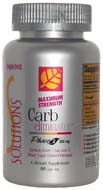 Maximum Strength Carb Eliminator™
Current research confirms that when we reduce the amount of carbohydrates from our diets we will lose weight. This means cutting back on favorites such breads, pastas, potatoes and other starchy foods. To assist in this often difficult process, Baywood has introduced Maximum Strength Carb Eliminator™ - a strong weapon in our battle with carbohydrate control. Maximum Strength Carb Eliminator™ is the latest dietary supplement that contains ingredients that have been shown to naturally block carbohydrate metabolism by effectively inhibiting their digestion and absorption, causing starchy carbs to pass through and be eliminated from the body. Each dose of Maximum Strength Carb Eliminator™ contains a potent 500mg of Phase 2™, the main ingredient in the formula. Maximum Strength Carb Eliminator™ is designed to not only assist with the moderate consumption of high carbohydrate foods, but also to improve the regulation of blood sugar levels and enhance proper insulin response.
Profile of Maximum Strength Carb Eliminator™
Phase 2™. This ingredient is derived from Phaseolus vulgaris, commonly known as White Kidney Bean. Phase 2™ inhibits the enzyme that promotes the breakdown of starch in the human gastrointestinal tract. This enzyme is called alpha amylase, and when inhibited, the result is a reduction in the digestion of starch in foods so that less starchy carbohydrates are absorbed, broken down into blood sugar, and stored as fat. Studies now show that 1000mg of Phase 2™ can effectively assist with moderate, healthy weight loss. In the most recent study1 , patients who took Phase 2™ lost, on average, a half a pound per week (2 pounds over four weeks) compared to those on placebo who lost 1/10 of a pound over four weeks. The patients taking Phase 2™ also lost 1.3 inches around their waists.
Glucoport™. This ingredient is made from a medicinal plant commonly known as Banaba leaf (Lagerstroemia speciosa L.) known for its effective use in the treatment of diabetes. An extract from the leaves of this plant contains high levels of Corosolic Acid, which is a vegetable protein that has an insulin-like effect on the body, so it will assist in the regulation of blood sugar levels by ensuring proper insulin response. The botanical extract is caffeine free and also has antioxidant properties.
Vanadyl Sulfate. Research has confirmed Vanadium's important role in improving insulin response by exerting an "insulin-like" action in the body. It is also necessary in biochemical pathways associated with hormone, cholesterol and blood sugar metabolism.
Chromium. A mineral used often in weight loss programs because of its actions on maintaining proper insulin response and cell sensitivity to insulin, and for its role in stimulating thermogenesis in the body. Its role in blood sugar regulation is to facilitate the uptake of glucose into cells.
1 According to a study performed by PharmaChem Labs