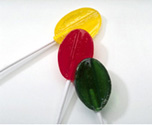 Low Carb Chef Assorted Lollipops

Delicious Assorted LoCarb Lollipops from Low Carb Chef with an effective carbohydrate count of ZERO per pop! Each exotically flavored lollipop is designed to be long lasting and deter us from the temptation to pick up one of the high carb versions.
Ingredients: Hydrogenated Startch Hydrolysate, Citric Acid, Natural & Artificial Colors, FD&C Blue 1,2; Red 3,40; Yellow 5,6; Acesulfame Potassium.
Nutritional Facts : Serving size: 1 piece (5g), Calories 22.5, Total Carb 7.5, Sugars 0, Sugar Alcohol 7.5g.
Net Carbs = 0g.