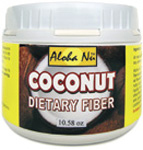 Taste is far superior to other
dietary fibers.
Aloha Nu TM Coconut Fiber has a mild, nutty coconut flavor. This is one dietary fiber you don't need to force down with strong flavored and overly sweetened juices. It's so good you'll enjoy adding it to foods and beverages.
Does not interfere with mineral absorption.
Most all fibers made from seeds and grains (flaxseed, soybeans, wheat, oats, etc.) contain phytic acid. Phytic acid binds to calcium, zinc, and other important minerals and pulls them out of the body, reducing mineral absorption. Coconut fiber does not contain mineral robbing phytic acid.

Gluten-Free
ALOHA NU COCONUT FIBER
Coconut fiber is a product meat derived from fresh coconut meat. It is considered a functional food because it contains health benefits beyond its nutritional content. Coconut fiber has all the benefits of other dietary fibers and many advantages that other fibers don't have.

Aloha Nu Coconut Fiber Nutrition Facts: Serving Size: 1 heaping Tbsp. (7g): Servings per container: about 50, Calories 30, Total Fat: 1g (Medium Chain Triglycerides: .65%), Trans Fat 0g, Cholesterol 0g, Sodium: 0mg, Total Carbohydrate: 7g, Dietary Fiber 5g, Protein 2g..

Aloha Nu Coconut Fiber Ingredients: Coconut Fiber
Net Carbs: 2g.
Contains health promoting medium chain fatty acids (MCT's)
This is the only dietary fiber supplement that contains natural MCT's. MCT's help promote a healthy intestinal environment by supporting friendly - rather than harmful - gut bacteria.