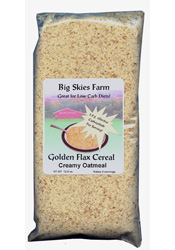 BIG SKIES FARM
LOW CARB FLAX CEREAL
(formerly Aunt Paula's Flax Cereal)
This delicious Cereals are high fiber, have a creamy base, and have nutty flakes of whole-grain oatmeal. All of Big Skies cereals are made with real grains, seeds, nuts and fibers that give an authentic cereal taste.
Flavors: Oatmeal, Blueberry, Apple Cinnamon and Peach flavors.

Big Skies Nutrition Facts: 8 servings per Bag, Serving: 1/3 cup (makes 1 cup cooked cereal), Calories: 130, Total Fat: 3.5g, Sodium: 270mg
Protein: 12g, Total Carbohydrate: 13
Fiber: 10g, Available Carbohydrate: 3g

Big Skies Ingredients: Flax meal, soy protein isolate, Whey Protein Powder, Bakers Wheat Bran, Almond flour, Baby Flake Oats, Oat Fiber (Chefs' brand), Spices, Vegetable fiber, Salt, Fruit bits, Flavors, Lo Han 15x.