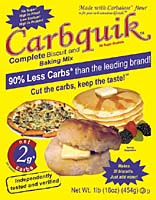 Low in Carbs!

Sugar Free!
Carbquik™ Baking Mix

Carbquik™ Baking Mix is a revolutionary baking mix for everyone counting carbs. It's made from wheat so it tastes like flour, try it and you'll see that it tastes as good or better than the leading brand, with 90% less carbs! .... does not contain nutritionally significant trans fats.
Carbquik Baking Mix Nutrition Facts: Serving Size 1 oz. (20g) dry mix, Servings Per Container 30. Calories 60, Fat Cal. 30, Total Fat 3.5g, Saturated Fat 1g, Sodium 130mg., Total Carb 10g, Dietary Fiber 8g, Soluable Fiber 0g, Insoluable Fiber 0g, Sugars 0g, Sugar Alcohol 0g, Protein 4g, Vitamin A 3%, Vitamin C 2%, Calcium 6%, Iron 2%.

Carbquik Baking Mix Ingredients: Carbalose™ flour (enzyme-modified wheat, vital wheat gluten, wheat fiber, high-protein wheat flour, vegetable fiber, soy oil, salt, dextrose, emulsifiers, enzymes, ascorbic acid, sucralose, calcium propionate), partially hydrogenated soy oil, buttermilk powder, baking powder, egg white powder, lecithin, salt, natural and artificial flavors.
Net Carbs = 2g.
Calories per gram: Fat 9, Carbohydrate 4, Protein 4