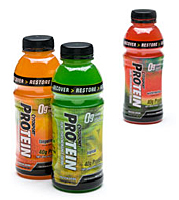 Superior to other
whey protein drinks.

We have obtained this 100% whey protein drink to replace the hard-to-get achievONE coffee drinks.

Each bottle provides 40g of whey protein in a
sugar- and lactose-free drink.

Delicious and easy to drink.

Provides 2 servings per bottle
(based on 20g per serving).

No more jitters from hard to find, expensive
high-caffeine coffee drinks.

Available in 2 delicious flavors:
Tangerine and Tropical.
Excellent Bariatric Whey Protein Drink!

Lactose- and Sugar-Free
CYTOSPORT WHEY PROTEIN DRINK
40 GRAMS OF QUICK, CONVENIENT and REFRESHINGLY DELICIOUS PROTEIN.

CytoSport™ Protein Pure Performance Drink contains whey protein isolates, protein in nature's most pure and complete form.

Cytosport Pure Protein Performance Drink Nutrition Facts: Serving Size: 2: Servings per container (based on 20g serving requirement), Calories 75, Total Fat: 0g, Sodium: 85mg, Potassium: 180mg, Total Carbohydrate: 0g, Protein 20g (based on 2 10-ounce servings), Calcium: 25%.

Cytosport Pure Protein Performance Drink Ingredients: Purified Water, Ion exchange protein isolate (derived from milk), phosphoric acid, citric acid, natural and artificial flavor, sucralose (a non-nutrative sweetener), red #40, yellow #6.