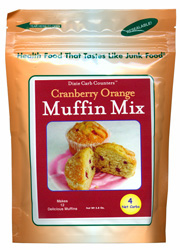 Dixie Carb Counters Cranberry Orange
Muffin Mix
Makes 12 delicious muffins. Quick and easy. Just 4 net carbs each. All natural and sugar free. Fat free/ low calorie optional instructions included.
CRANBERRY ORANGE MUFFIN MIX NUTRITION FACTS: Serving Size 1 muffin (13.7g dry), Servings Per Container 12, Amount Per Serving: Calories 31, Fat Cal. 2, Total Fat 0g, Saturated Fat 0g, Trans Fat 0g, Cholesterol 0g, Sodium 179mg, Total Carb 7g, Dietary Fiber 3g, Sugars 2g, Protein 2g, Vitamin A 0%, Vitamin C 0%, Calcium 6%, Iron 2%.
CRANBERRY ORANGE MUFFIN MIX INGREDIENTS: Unbleached flour, soy isolate, cereal fiber, dried cranberries, low glycemic monosacharide, bicarbonate of soda, corn starch, calcium acid phosphate, dried egg whites, natural flavor, orange peel, dehulled soy beans, soy lecithin, sea salt, vanilla powder, low glycemic fruit concentrate.
Net Carbs: 4g/muffin.