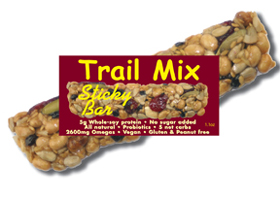 Dixie Diner Trail Mix Sticky Bar
• Gluten, Wheat, and Peanut Free
• 2600mg Omegas From Flax
• Vegan
• No Sugar Alcohols
• Low Sodium
• All Natural

DIXIE DINER TRAIL MIX STICKY BAR NUTRITION FACTS: Serving Size Serving Size: 1 pkg (31g), Servings Per Container 18, Total Calories 132, Calories From Fat 64, Total Fat 7g, Saturated Fat 2g, Trans Fat 0g, Cholesterol 0mg, Sodium 5mg, Potassium 150mg, Total Carbohydrates 14g, Dietary Fiber 9g, Sugars 1g, Protein 5g, Vitamin A: 1%, Vitamin C: 13%, Calcium: 3%, Iron: 5%,.
DIXIE DINER TRAIL MIX STICKY BAR INGREDIENTS: Non-GMO soy beans, sunflower seeds, flax seeds, currants, dried cranberries, cashews, pumpkin seeds, almonds, unsweetened coconut, oligosaccharides, maltodextrin, water, coconut oil, palm oil, apple puree concentrate, corn starch, natural flavor, soy lecithin, malic acid.

This product may contain traces of nuts.

5g Effective Carbs.