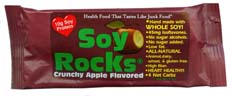 Hand made with WHOLE SOY!

45mg Isoflavones.

No Sugar Alcohols.

No sugar.

Low Fat.

ALL NATURAL

Animal-, Dairy-, Wheat- & Gluten-free.

High Fiber

HEART HEALTHY!

4g Net Carbs
Dixie Diner Soy Rocks
Crunchy Apple Flavor
...with10g Soy Protein. Contains all-natural oligosaccharides which promote the growth of beneficial probiotic intestinal microflora.
Soy Rocks Nutrition Facts: Serving size: 1 pkg. (31g), Servings per container: 1, Net Wt. 1.1 oz.
Calories: 81, Calories from Fat: 19, Saturated Fat: 1g, Trans Fat: 0g, Cholesterol: 0mg, Sodium: 3mg, Potassium: 445mg, Total Carbohydrate: 16g, Dietary Fiber: 12g, Sugars: 3g, Protein: 10g. Vitamin A: 0%, Vitamin C: 0%, Calcium: 6%, Iron: 10%.

Soy Rocks Ingredients: Non GMO Whole Soy Flour, Oligosaccharides, Maltodextrin, Water, Coconut Oil, Palm Oil, Apple Puree Concentrate, Pectin, Corn, Corn Starch, Natural flavor, Soy Lecithin, Malic Acid.