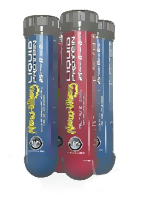 100% Whey Protein in a 2.9 oz.
Liquid Shot!

We have obtained these 100% whey protein shots to replace the hard-to-get achievONE coffee drinks.

Each shot provides 24g of whey protein
in easy-to-use packaging!

No messy mixing of powders and no messy clean up.

The ideal protein supplement for people on the go!

No more jitters from hard to find, expensive
high-caffeine coffee drinks.

Available in Blue Raspberry and Fruit Punch.

Excellent Bariatric Whey Protein Supplement!

NEW WHEY PROTEIN SHOT
25 GRAMS OF QUICK, CONVENIENT PROTEIN.

Can be consumed in as little as 3 seconds!

NEW WHEY Protein Shot Nutrition Facts: Serving Size: 2.9 fl. oz., Servings per container 1, Calories 100, Calories from Fat: 0g, Total Fat: 0g, Sodium: 64mg, Potassium: 31mg, Total Carbohydrate: 0g, Dietary FIber: 0g, Sugars: 0g, Protein 25g, Vitamin C: 100%, Thiamin (B1): 10%, Riboflavin (B2): 10%, Niacin (B3): 10%, Pantothenic Acid (B5): 10%, Pyridoxine (B6): 10%, Cyanocobalamin (B12): 10%, Biotin: 10%, Folic Acid: 10%.

NEW WHEY Protein Shot Ingredients: Pure deionized water, Actinase (patent pending blend of enzymatically hydrolyzed collagenic protein isolate, whey protein isolate and caseine protein isolate), malic acid, Myovol? Complex (proprietary blend of leucine, valine and isoleucine), all natural flavors, acesulfame-potassium, sucralose, blue 1 and red 40.